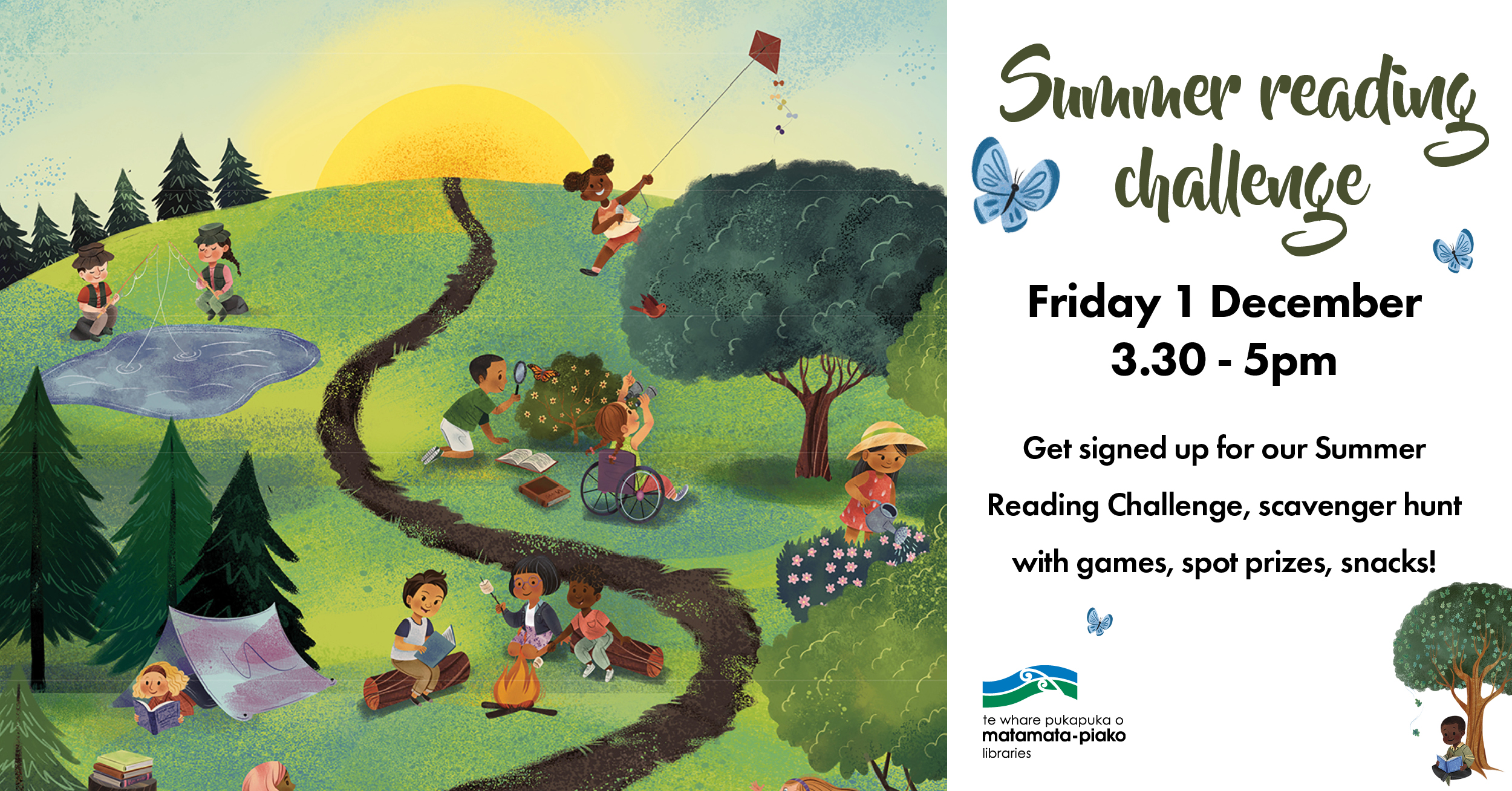 2023-2024 Summer Reading Challenges: Read beyond the beaten path
Who is it for?
Everyone in our district can participate in our reading challenges from 1 December 2023 - 27 January 2024.
For the tamariki of the district, come along to one of our libraries on Friday 1 December from 3.30-5pm for a fun afternoon to launch us into the reading challenge.
To participate, download the Beanstack app to track your reading over summer and throughout the year.
This year we have separate challenges for each age group:
Who is it for?
This challenge is for anyone under 5.
How do you participate?
Register on Beanstack, or come into the library to grab a colour-as-you read chart. This group is challenged to read 10 books over summer, which you can log on the Beanstack app or colour in on your paper tracker.
What are the rewards?
After logging 10 books read, come in to the library for a sticker or stamp. There is no limit to the number of times you can reach your 10 books and get a sticker or stamp.
Note: librarians and their immediate family are not eligible for major prizes. School-aged immediate family members of librarians may still be awarded the pool voucher and Paper Plus voucher for their reading.
What are the annual challenges?
2023 all-year challenges
For over 12s, there is a challenge called 10 to try which encourages you to read 10 different genres over the year. You can also record any other reading you do, whether it's bedtime stories to your children, listening to audiobooks as you drive or do housework, or your reading guilty pleasures!
For under 12s, there are two options to choose between. Growing Readers challenges children to read for 10 hours over the year. This is best suited for those who are being read to, or who are starting to develop confidence in reading independently. Thriving readers is for those children who are confident readers and want to stretch themselves. It involves reading for 20 hours, completing 5 book reviews and 5 challenges to read widely.
How does it work?
Sign up to Beanstack, our online reading tracker. If you've got a phone or tablet, you can download their app for easy recording on-the-go. Come into the library if you need help getting started; our librarians can also help sort you out if you don't have access to a computer of device.
Register for the challenge which is available for you, and start recording which books you read, and how long for. You can share your code with friends and family and compete in your own leaderboards. For every hour you read, you will unlock a badge!
We have set another community goal for 2023, to read 1 million minutes. Your reading will help us reach this goal!
When does it run?
Our ongoing 2023 challenge runs from 1 February - 30 November.